Resting Place of Early Settlers
Clear Lake Cemetery is the resting place of James Stanton and his immediate family including sons-in-law and descendants with the surname Kerr. They were some of the earliest settlers in the area. The cemetery was active from 1830 to 1945.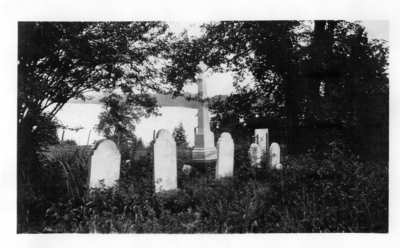 James Stanton
James Stanton came from Somerset County in England around 1820, as part of the wave of settlement from the British Isles encouraged to protect the colony after the War of 1812.
A millwright and carpenter, James Stanton built the lockmasters' houses at Newboro and The Narrows' Lock as well many local buildings including his own home nearby. He also crafted the magnificent spiral staircase in the Kingston City Hall.
James and his wife, Sarah Wright, had three girls and five boys between 1828 and 1849. A baby boy was the first burial in the cemetery in November 1830. In 1843, a two-year-old daughter passed away, perhaps from the scarlet fever epidemic that swept the area in 1843 and 1844.
Two daughters married members of the Kerr family who were both local farmers. Two sons also farmed locally. One son died in his 30's just before his wife gave birth to a child. The youngest son was the school master at the first Clear Lake School.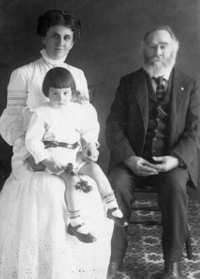 Pictured above is Edward Kerr who married Sarah Ann Stanton with their daughter Gertrude and grandson Donald Eaton.
Below is a picture of George Kerr's stone. His body and the stone were moved to Halliday Cemetery in Elgin.