Restoration Project
Restoration is an ongoing project of The Chaffey's Lock & Area Heritage Society in collaboration with The Township of Rideau Lakes and descendants and relatives of the Stanton/Kerr families.
Goals are to preserve the monuments, manage the landscape, and promote public education. Fundraising is being carried out for the project as well as for future maintenance.
Master Conservation Plan
A Master Conservation Plan was drafted by the Cemetery work group and adopted by the Chaffey's Lock and Area Heritage Society. The plan was presented to the Heritage Advisory Committee and finally adopted by the Council of The Township of Rideau Lakes.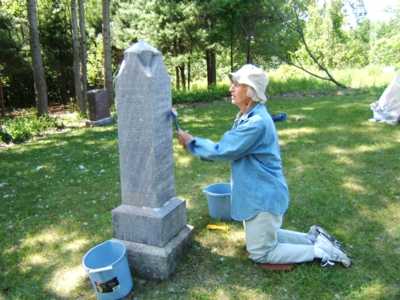 Above, a Stanton descendant from Port Elgin, Ontario, Audrey Underwood, helped scrub stones in June, 2006.