Rule Curves for the Rideau Lakes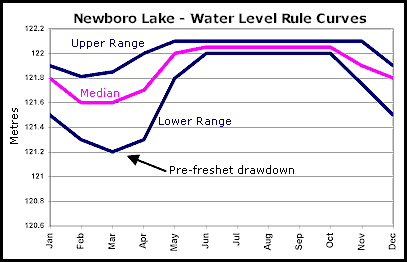 Water levels on the Rideau Waterway are controlled by a series of dams and weirs. Guidelines, known as the "rule curves", set the water levels for each section of the Rideau, depending on the time of year.

During navigation season (mid-May to mid-October), waters of the Rideau are kept above chart datum. In fall, water is drawn down to winter levels and in spring, depending on the level of the snowpack, the levels may be drawn down further to provide reservoir capacity for the spring freshet in order to prevent flooding.

On this page you'll find detailed information about the rules curves for the Rideau Lakes including brief summaries, detailed listing and charts.



Ottawa Reach

The canal section in Ottawa is emptied each fall and raised back to navigation level in the spring. It is also partially re-filled in the winter for the skateway. The exact timing of all of this is variable. It is usually emptied about a week or so after the canal closes in the fall. It is refilled in the spring, generally in late April (the 2011 date was May 3 - the 2012 date was April 28). To get the exact dates, contact the Rideau Canal Office of Parks Canada: RideauCanal-info@pc.gc.ca





Rule Curve Summaries
Lake
High (m)
Datum (m)
Low (m)
Big Rideau (incl. Lower Rideau)
123.95
123.10
122.60
Upper Rideau
124.65
124.00
123.58
Newboro (incl. Indian, Clear, Mosquito, Benson & Loon)
122.12
122.00
121.28
Opinicon
118.80
118.70
117.91
Sand
116.10
116.00
115.65
Cranberry (incl. Whitefish, Little Cranberry & Dog)
98.70
97.70
97.80
Colonel By (incl. River Styx)
88.78
88.60
88.10

Datum in the above listing is "chart datum" which is the minimum controlled water depth, as indicated on navigation charts #1512 and #1513. Under normal conditions, water levels are maintained at or above chart datum during the navigation season.

Levels are "metres above geodetic datum" (above sea level).

To find out the current level of your lake, check the water level marker at the nearest lockstation (there are markers located on both the upper and lower lock walls). You can also contact the Rideau Canal Office of Parks Canada for current water level information.