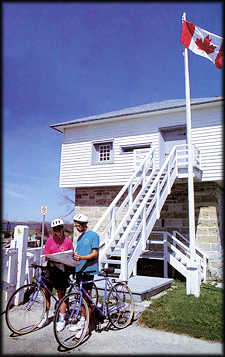 Bicycling the Rideau Corridor is a fun (and healthy) way to enjoy the scenery and view the sights. This section of the Rideau website simply presents a few possible routes as well as links to other Internet resources.

Other than the Cataraqui Trail, which covers part of the southern Rideau, there are no specific off-road bicycle trails. Bicycle routes follow secondary paved roads, of which there are many in the region. The topography of the region is gentle, it is generally an easy ride.

The large number of secondary roads make Rideau exploration a fun adventure. It is easy to take the "road less travelled" and discover the quiet beauty the Rideau has to offer.

This section of the Rideau website has been divided into several areas. In Bicycling Resources you will find links to various Internet resources. In Self-Guided Bicycle Tours you'll find some suggestions and route descriptions to plan your own tour. In Organized Cycling Tours you'll find links to commercial enterprises that provide tours for a fee.


---
Bicycling Resources


Travel Tips - as the name suggests, this is a little section on this website with various travel tips to make your journey a safe and pleasant experience.

Accommodations - this link will take you to this website's accommodations page, providing information on campgrounds, B&Bs, lodges and motels in the region. You can also camp at the lockstations, simply arrive during hours of operations and speak with lock staff to make arrangements (no reservations required). See the fees & schedules page for fees and hours of operation.

Maps - it is best to pick up a detailed paper map of eastern Ontario (at your local bookstore, CAA office, etc.). Also paper maps of Kingston and Ottawa if you plan on cycling in those cities.
The current (2016) cycling map for the area is the 2010/2011 Eastern Ontario Recreation Map by Advermap. It should be available at some tourist outlets.
General on-line maps are available on this website - see the maps page.
Maps are also available in the driving tours section of this website - see the driving tours section.
Maps of the Township of Rideau Lakes (covering the south central Rideau region) are available in PDF format from the Township of Rideau Lakes website. Head over to www.rideaulakes.ca/component/edocman/maps
Town maps of many Rideau communities together with walking tours and service guides are available on this website - see the Rideau Community Histories Page.
Google Maps has a cycling option. Simply choose the route (directions) and then select the cycling icon near the top of the left menu.
Boat Rental - for a real Rideau experience, combine your cycling trip with a boat trip. Rent a canoe or pontoon boat (you can carry your bikes on the pontoon boat) and get out on the Rideau.


---
Self-Guiding Cycling Tours


The following are some self-guided cycling tours of the Rideau area.
---



Links of Bicycling Interest


A few links of local bicycling interest.
---
Notes
Distances shown are approximate, they have been measured from maps
Time estimates have not been included since it will depend on your speed as a cyclist and the number of stops that you make.
Suggestions for improvement and corrections to the information are welcome - please email me.