For many safety includes proper trip planning, training (skill in paddling a canoe or kayak), carrying the appropriate safety gear and having detailed route maps. However an often overlooked safety issue for paddlers is that of visibility. Just because you can see other boaters doesn't mean that they can see you.

Canoes and particularly kayaks sit low in the water. Even in good weather conditions on a lake or river, canoes and kayaks can be difficult to spot, particularly by power boaters who may not be specifically looking for them. So it is up to you, the paddler, to make sure others on the water are aware of you. This involves a few simple steps:

1) AWARENESS - be aware of other boaters in your area. Be aware that you might be hard to see and adjust your route and actions accordingly (i.e. paddle along shorelines rather than in the navigation channel - it's also more fun that way).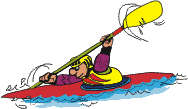 2) VISIBILITY - strive for maximum visibility - a bright hat and bright life jacket are a good start. Your best visibly aid is often your paddle, especially in the case of kayakers. If kayaking, choose a paddle with brightly coloured blades (yellow is ideal). If you are in a situation where you think you should be noticed - raise your paddle vertically above you - this will make you much more visible.