Electric Tug completes Rideau Canal Transit
by
John Hayes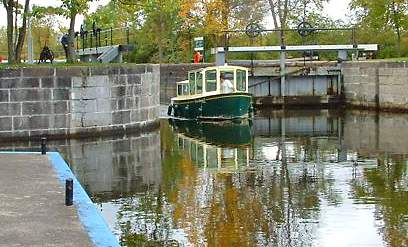 In late September an electric tug, Greenhorn I, completed a seven day 200 km trip covering the entire length of the Rideau Canal System, starting at Kingston and finishing at the foot of the Parliament Buildings in Ottawa. The voyage demonstrated that electric boating, popular in some parts of Europe but almost unknown in North America, is both a practical and very enjoyable way to travel the amazing inland waterways in this part of the country.

Owner of the boat, John Hayes, said "The trip was unlike any other boat trip I have ever been on. It gave the peaceful serene feeling of a canoe trip, but without having to paddle or sleep on the ground." Although only 18 feet long, Greenhorn I has proven to be a very stable and comfortable platform for a canal system trip, with all the comforts of home on board.

Greenhorn I was built by Bill Hayes of Ottawa, his son John Hayes of Waterloo. Even Bill's granddaughter, Julie Boileau of Ottawa got involved. Although initially launched with an outboard motor, as an Electrical Engineer, John could see many benefits of converting the vessel to electric power. "It's been my floating science project for the last couple of years, and the results have exceeded my most optimistic expectations." he said.

Although this trip was made primarily single handed, John was met along the way by family and friends. His father Bill was on board to go through many locks and joined him for the final 3 ½ miles from Dows Lake to the very end of the canal at the foot of the Parliament Buildings in downtown Ottawa.

The boat is so quiet that while under way you can hear the ticking of the depth sensor over the hum of the three electric motors.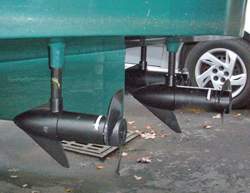 Three electric motors propel
the Greenhorn I

It normally cruises at about 6 kph because "it's fast enough to make pleasant noises as water rolls off the hull, but slow enough to keep the power consumption very low." At normal cruising speed, the 3500 lb boat consumes about half the power a typical hair dryer uses. It can travel as far as 70 km at that speed before having to recharge the batteries, which is accomplished by plugging into shore power along the way. Most marinas and several lock stations on the Rideau system have shore power available so you are never too far from an opportunity to "fuel up".

John hopes that his cruising may help to convince others that there is a place for more low environmental impact boating activities on our inland waterways. Greenhorn I produces virtually no air, noise, or water pollution on the waterway and doesn't produce any wake." There's lots of opportunity to spread the message of the delights and benefits of electric boating because traveling in an electric powered tug that looks a bit like a bath toy attracts lots of attention and many questions.

Hayes grew up in Ottawa and crossed over the Rideau system hundreds of times without ever realizing what a jewel he had in his own back yard. During the week long trip he spoke to both local and international visitors from the United States, Australia, and South Africa, all of whom who were captivated by the canal system's mix of natural beauty, history, and helpful friendly people.