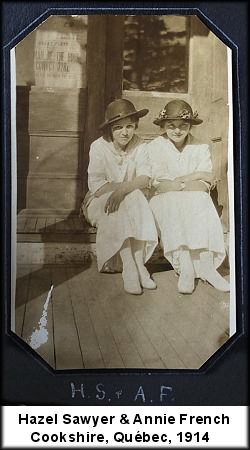 Please note that visible captioning on this and the photo below were done by the author (manually with this one, automatically with Breezebrowser using the IPTC description data in the one at the bottom of the page). IPTC/XMP is digital labelling - the information is stored within the digital photo file. For information about how to do this, see the Visible Captioning Page.



Since I started working with digital photos I've been looking for a good solution to labelling these photos. Unlike paper prints, there is no "back" to write on with a digital photo. Labelling is a good habit to get into, especially with family photos. I do a lot of genealogy and am constantly frustrated by collections of largely unlabeled photos.

There are two types of labelling, digital and visible. Digital, which is what this page is all about, means adding labelling data right into the photo's digital file (generally JPEG or TIF). This is done using an accepted standard, IPTC/XMP. It does not create a visible caption unless software supports that feature (you usually need to know where to look to get the captioning infomation). To have a photo show a caption no matter what software is being used, you'll need to visibly label your photo. For that technique see the Visible Captioning Page. Of note, I normally digitally label all my photos and only visibly label a few (i.e. my genealogy photos).

Since I'm into genealogy and the concept of long term archiving, I'm dead against using some sort of proprietary labelling software - I want to make sure that what I do will be some sort of accepted standard in a digital future. The archival standard to follow is called IPTC which stands for "International Press Telecommunications Council". They have developed a standard for information that can be embedded into a digital photo. Adobe has used IPTC as the foundation for their Adobe XMP (Extensible Metadata Platform) open standard.

Facial Tags - Some software and some on-line systems allow you to identify a face in the photo. This is known as facial tagging or a Face Tag. While you can do this for fun it does not replace the use of IPTC/XMP digital labelling which is a standard, face tags are not. So, DO NOT USE face tags as your only means of photo identification. See the Face Tag page for full details of why it's not a good idea.

Bottom line is to label your digital photos using the IPTC/XMP open standard. If the program you're using doesn't support IPTC/XMP, or uses some sort of proprietary standard, then get rid of it and switch to something that does.

For full technical details about IPTC/XMP and how it is implemented see: www.iptc.org

IPTC/XMP Caveat

1) Not all programs support IPTC/XMP. Those that don't support it will often strip out this data when saving a photo that had IPTC/XMP data in it. To test, write some IPTC/XMP data into a photo using an IPTC/XMP compliant program (i.e. Breezebrowser, XnView, Photoshop, Photo Info) then load this photo into your graphics program of choice and save it out as a regular JPEG file (with a new filename). If the IPTC/XMP data is gone when using your photo editor, then scrap it and write the manufacturer telling them to move into the 21st century and support IPTC/XMP metadata. See "Map Your Labelling Fields" below.

2) IPTC/XMP is usually only supported in JPEG and TIF digital photo files. So even with an IPTC/XMP compliant program, it might not support IPTC/XMP in file formats other than JPEG or TIF (and not all yet support TIF format). As with (1), check by saving out a file in various formats and see if the IPTC data is retained. Some programs are starting to add IPTC/XMP into other formats such as camera RAW files and Adobe DNG files.

Map Your Labelling Fields

As with many so-called digital "standards", the implementation of it in software is only as good as the software author(s) knowledge of the subject. Some programs, such as Breezebrowser, follow the current IPTC/XMP standard exactly as specified, others not so much. So, when using a new piece of software, or an on-line service that promises to accept labelling, map your labelling fields. For instance, I'll take a test photo and using Breezebrowser take the IPTC field "Document Title" and write "This is the Document Title" in the data entry section for that field. I'll take the "Description" field and write "This is the Description Field" - and so on. Then I load that photo into my new software and/or on-line service and see where those data labels end up. The most common variation I've seen is software that uses either the "Description" field or the "Title" field as a photo "Caption". Another common variation is to call the "Keyword" field the "Tag" field.

Adding IPTC/XMP Digital Labelling

I'll outline the general procedure using examples from Breezebrowser, Adobe Photoshop, Windows, XnView, Picasa and Irfanview.

Breezebrowser (Windows):
The software I use for IPTC/XMP data entry is BreezeBrowser (www.breezesys.com ), one of the early adopters of the IPTC standard. The image below is the IPTC dialog box in BreezeBrowser. Note that in recent versions of Breezebrowser, the naming of the categories has followed the Adobe XMP standard. There are two main ways to get to this dialog.

1) In thumbnail view, select the images you want to add IPTC data to. Then RIGHT mouse click on any selected image and choose "Edit IPTC/XMP Data".

2) If you want to do a whole folder in one swoop, simply look at any image from that folder in detailed view, RIGHT click on it and choose "Edit IPTC/XMP Data" (note this is the same as doing a "Select All" in thumbnail view.

The nice thing now is that you can batch enter IPTC data. For instance you might want your name in the "Copyright" and "Author" fields for all the photos. Enter it and then choose "Apply to All" to write that IPTC/XMP data to all the selected photos. For individual entry (such as Caption data), simply use the "Prev" and "Next" buttons to cycle through the selected photos. You can also save your IPTC/XMP metadata as files for later use.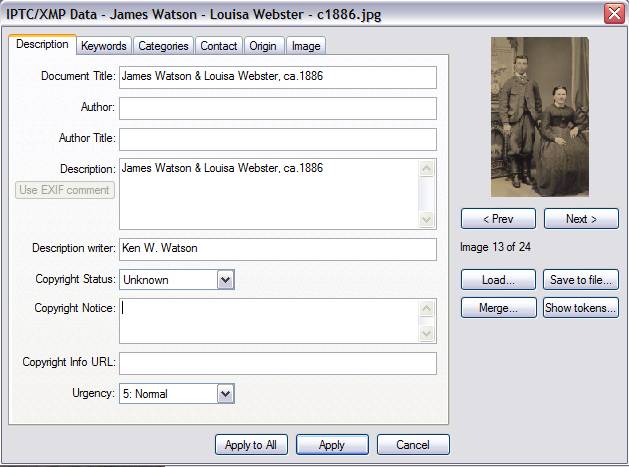 Adobe Photoshop/Photoshop Elements (Windows/mac):
Adobe is using their XMP standard which incorporates IPTC with a few name changes.

From the file menu, choose "File Info". The main IPTC data (as XMP) is in the "Description" section (default tab).

While Photoshop itself doesn't allow batch entry, you can do batch IPTC entry by using Bridge which comes with Photoshop. Run Bridge, select the photos you wish to label and then right click and choose "File Info" (or choose "File Info" under the File menu) and this opens up their XMP data entry (same as Photoshop itself).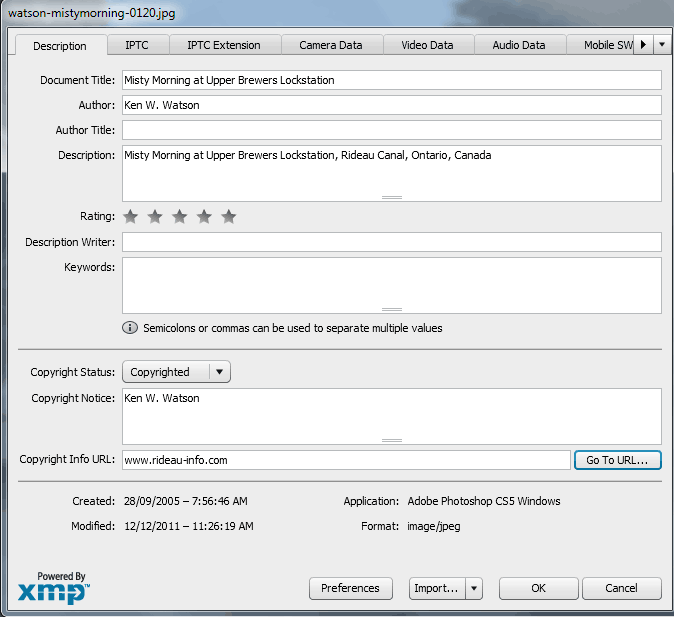 You can get a free version of Adobe Bridge which allows for IPTC data entry in a manner similar to Adobe Photoshop. You can get it from: www.adobe.com/products/bridge.html

Even if you don't use it for primary labelling, it is good to have to ensure that your labelling is Adobe compatible.

XnView (Windows) or XnViewMP (Windows/Linux/mac):
XnView/XnViewMP (www.xnview.com) is a free full fledged thumbnail program with many features, including full IPTC/XMP implementation. IPTC/XMP data can be added very easily by either using the "Metadata" option in the "Edit" menu or right clicking on an image and choosing "edit IPTC data." Batch mode is extremely simple, just select the group of images you want, right click and select "edit IPTC data" - this gives you a dialog box where you can add IPTC data to all the selected images at once or step through each one to add unique data - very easy (same as Breezebrowser). It also has full search capabilities (for a number of criteria, including any IPTC field). And the price is right - free.


Picasa (Windows/mac/Linux):
Google's former image program, Picasa, allows data entry for the IPTC/XMP Description field and also the keyword field (called "tags" in Picasa) in JPEG files (doesn't seem to work properly for TIF files). To add a description, use Picasa's Caption - which can be accessed going into the Edit Photo screen and clicking on the gray Make a caption! strip below the photo. To add tags (keywords) just open the tags panel. While you can't enter any additional metadata, you can view all the metadata in a JPEG photo by opening "view properties."

Picasa was dropped by Google in 2014 but it (v.3.9) can still be found on the Internet. It's "replacement" - Google Photos, does NOT properly support IPTC/XMP.


Irfanview (Windows):
Irfanview has IPTC capabilities for JPEG but not as yet (v.4.52) for TIF. The data entry is a bit hidden:

1) For a single file select "Image > Information" and then click on the IPTC Info button at the bottom of the Information dialog. The data entry fields are standard IPTC naming convention except for the use of "Caption" in place of "Description". If there is no IPTC button in that dialog it means the file is not IPTC compatible to Irfanview.

2) Batch entry is really hidden. Use the "File > Thumbnails" option to view a folder of images. Select the images you wish IPTC data written to. Now choose "File > JPEG Lossless Operations > Set IPTC data to selected files" Use the OPTIONS tab in that dialog to set the IPTC batch entry options.


Windows Vista, 7, 8 10 & 11
Windows Vista, 7, 8, 10 and 11 don't properly implement IPTC/XMP - instead they mostly use EXIF fields. In Windows Explorer (or Windows Photo Viewer), right mouse click on a photo a select Properties. In the dialog box that pops up, select "Details." There is a section called "Description" with the fields: Title, Subject, Rating, Tags, and Comments. Title is the EXIF Comment field. Tags is the IPTC Keyword field. Subject and Comments are not IPTC fields (more EXIF fields). While you can use Windows to enter some data, I would NOT recommend using Windows to do digital labelling until Microsoft implements the proper IPTC standards. Use one of the other programs mentioned on this page. It remains a mystery as to why Microsoft doesn't follow IPTC/XMP standard fields and labelling terminology.


iTag (Windows):
This is a little freeware program for both Windows XP (with .NET v3 or above installed), Windows Vista, 7, 8 and 10. It's a program which allows basic IPTC/XMP data to be added to JPEG photos and also allows searches of IPTC/XMP data in JPEG photos. It doesn't come with a help file, so read the tips on the website. See www.itagsoftware.com


Snip Tag for Mac:
A commercial Mac program specifically designed for the IPTC/XMP digital labeling of photos and also for visible labelling in a caption space below the photo. Visit sniptagapp.com for full details.


SMARTPHONES
Editing photos on a computer is far easier and much better than trying to do it on a smartphone - the software is more powerful and the larger screen and use of a mouse makes editing much easier. But the reality today is that for many people a smartphone is their only "computer." Many photo editing apps don't do IPTC, but several do, so look around. There are several commercial offerings specifically geared to the professional press photographer that do IPTC. The free offerings tend to be hit and miss - my best advice is to try a few and find one that you like.

Why Use IPTC/XMP?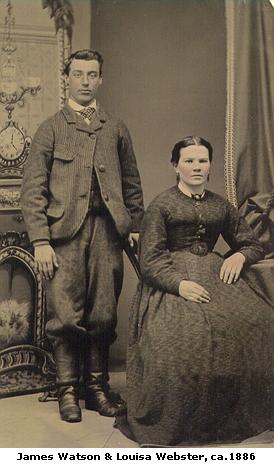 The advantage of using IPTC/XMP data to label your photos is that the data is contained right inside the digital photo (it becomes part of the photo). It is an internationally recognized standard so your IPTC/XMP data will be viewable by someone 50 or 100 years from now. The same cannot be said for programs that use some proprietary labelling schemes (these are to be avoided).

Another advantage is that I can use IPTC/XMP data to "watermark" any of my photos using Breezebrowser. This makes for very fast batch processing of multiple images. A common use is to caption a photo for genealogical archiving or emailing. The photo on the right is an example of such a captioned photo. Breezebrowser has added the white caption space below the photo and written the IPTC caption data in that space. The photo caption is now part of the photo, anyone, using any image viewing software can now view the photo with its caption.

Such a caption can of course be added with any software that allows the changing of the paper/canvas size and the addition of text to a photo, but the Breezebrowser method is much faster for batch processing dozens or even hundreds of images. The IPTC/XMP data can also be used to create captioned HTML (web) photo galleries.

From a genealogical perspective, as I noted in the first paragraph, nothing is more frustrating that a photo album (or shoebox) filled with unlabelled family photos. Dozens of unnamed faces stare out at you from these photos. So for family photos in particular, you owe it to your descendants to label them.

The Future
In the future you shouldn't have to worry about IPTC, XMP or other acronyms. You should be able to just click on a photo and add a description and other information which will automatically be stored in the IPTC/XMP standard. Microsoft has gone partway there with a photo's properties in Windows 7, 8 and 10 which allows you to enter some IPTC data, but in a non-standard way. Microsoft's Title shows up both in IPTC's Title and Description (Microsoft doesn't provide a separate Description field). Microsoft's "tags" are IPTC's keywords and Microsoft's "comments" are EXIF's comments. So we're not there yet.


---

For more information about IPTC/XMP and for ideas and details about how to name digital files and add IPTC/XMP data, have a look at the : Controlled Vocabulary Website