(1861 - 1931)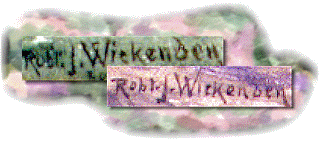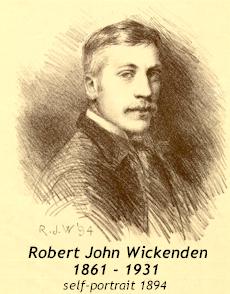 The following is brief biography of the artist, Robert John Wickenden, who was born in England, took his early artistic training in the U.S., developed his full abilities in France, and ended his career in Canada and the United States. Please note that the scanned pictures on this page contain several imperfections (reflections, skewing, cropping) that do not reflect on the quality of the originals.

Robert was born on July 8, 1861, in Rochester, Kent, England. He never knew his father, Thomas Wickenden, who was Captain of a three-masted schooner, the Mary Caroline, which, on January 1, 1861, was wrecked at the mouth of the Humber River, East Anglia, with the loss of all hands. Robert's mother, Charlotte Quaife, raised Robert and his two older brothers, James and Thomas, on her own. Robert received his early education at the Sir Joseph Williamson's school, and was one of the youngest boys in England to pass the Oxford Local Examination at Rochester in 1873.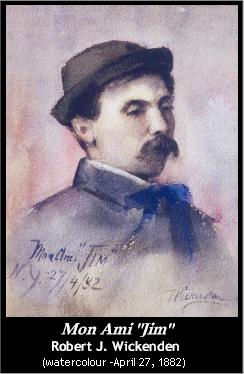 In October, 1869, Robert's oldest brother James left England and travelled to Toledo, Ohio, home to Charlotte's brother, Reverend Robert Quaife, a Congregational minister. In October, 1870, his brother Thomas moved to Toledo and in September, 1873, Robert and his mother Charlotte made the same move. At the age of 15, Robert apprenticed himself to North and Oswald, photographers in Toledo. At 16 he struck out on his own. For two years he operated a small gallery in Dundee, Michigan. After this he moved to Detroit, then to New York, and enrolled in art school, under Chase and J. Carroll Beckwith during the years 1880 to 1882. He also taught art classes in Detroit during this time.

The art world at this time was centred in France, so in 1883, at the age of 22, Robert moved to Paris and enrolled in the Ecole des Beaux-Arts. As he developed his painting style, he was greatly influenced by the style of the Barbizon school which included such artists as Corot, Millet, Rousseau and Daubigny. It was likely at this time that his interest in printmaking also came to the fore. To quote Robert "I remember a morning spent with [James McNeill] Whistler at his house on the rue du Bac at Paris, when he opened his portfolios and entered into a discussion on the relative merits of etching and lithography, both of which he so well understood."

While in Paris, he met and fell in love with a young girl, Ada Louise Ahier who was visiting from the Isle of Jersey (Channel Islands). His main art patron at the time, Sam Coyl of Detroit, was angered at Robert's engagement to Ada. The Coyls had been very close to Robert, thinking of him almost as a son, and felt they should have a say in the selection of his wife, and in fact had a couple of local girls in mind. Sam Coyl refused a shipment of pictures that Robert had sent to Detroit and turned a number of Robert's clients against him, cutting his patronage in half. This only set Robert's resolve to continue on his chosen course and in April, 1885 he married Ada. They moved to Toledo in October of that year.

Ada stayed with Robert's relatives in Toledo while Robert obtained a studio in New York as a base from which to paint and sell his works. Ada soon became homesick, she found Toledo to be very cold and greatly missed the European culture she had been used to. On word that her father had taken ill, the family, now with a new son, Alfred Ahier, moved to Longueville, Jersey in 1886.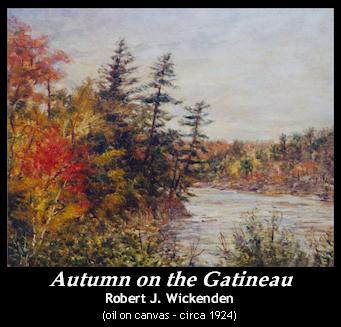 In 1887, the family moved to Auvers-sur-Oise, located about 30 kilometres (18 miles) north of Paris, and famous for being the home of many artists, including Charles Daubigny. Their first daughter, Alice Marie (Fifille), was born there in 1888. That same year they moved to Paris and then in 1889, moved back to Auvers. In 1891 they moved again, this time to Toledo, staying first with relatives and then moving to Chicago. In 1892 they moved back to Auvers where they stayed until May, 1900 when they moved to Montreal, Québec, Canada. During this time another daughter Yvonne was born (1890) as well as two more sons, Henri Robert (Henry) (1892), and Jean François (John) (1896). After their move to Canada another son, Robert Thomas Daubigny (Bob) was born in 1901 in Outremont, Québec and in 1903, their last child, Marguerite Heloise (Margot) was born in Ste Adèle, Québec.

In April, 1906 the family moved to Bethel, Connecticut. Robert also leased a loft in New York for use as a studio and apartment. In 1919 they moved to Danbury, Connecticut and then in 1921, they moved to Brooklyn, New York where they stayed until their deaths (Ada; January 27, 1930, Robert; November 28, 1931).

The travel that his family did was nothing in comparison to the amount of travel that Robert himself did throughout his career. He made dozens of trips across the Atlantic. To make ends meet, Robert, in addition to painting and selling his own works, involved himself in the acquisition and sale of other artists works. This entailed several trips to the U.S. to attend art sales. Some of these ventures worked out quite well, others put Robert at a considerable financial disadvantage. Robert also travelled to the U.S. and Canada to paint commissioned works.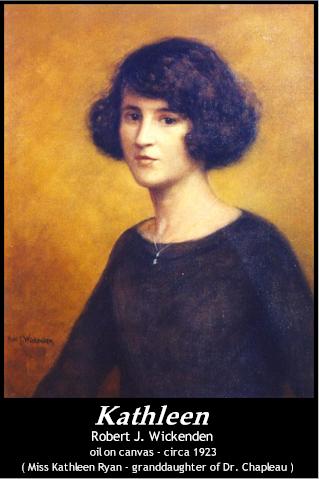 Robert was part of the late nineteenth-century print revival. His early career as a photographer lent itself nicely to the art of lithography and print making. Robert also did a considerable number of paintings, portraits and landscapes in oil and watercolour. He became fairly well known in this regard, painting a number of commissioned works including a portrait of King Edward VII in civil dress, a commission from the Nova Scotia Government in 1912. He became a well known artist in Québec, painting a series of official portraits including Cardinal Taschereau, Archbishop Begin, Monseignor Marois, Sir Adolphe Chapleau, His Honor Mayor Parent, Abbé R. Casgrain and several other well known citizens.

Robert's interests were wide ranging, he was a printmaker, artist, collector, dealer, historian, researcher, poet, and cataloguer. It is because of these wide ranging interests that Robert never achieved a significant amount of fame. He was well known within art circles, but fame in art is achieved though the devotion to a single theme with the support of patrons with wealth and power. Robert's diverse interests, including his interest in lithography (considered "second rate" in art circles), doomed him to relative obscurity.

One measure of Robert's talent was his painting, "A Study of Oaks.", painted in about 1887. His signature was subsequently changed to "Inness" and it was sold sometime after the turn of the century for about $15,000 (a very large sum in those days) to the Pittsfield Museum. It was Robert J. himself who later recognized the painting, saw the changed signature and informed the museum of the forgery. It is to be pointed out that it was not a case of Wickenden painting like Inness or Inness like Wickenden, it was simply the style in which they both painted (the Barbizon School of painting).

To quote a reviewer of one of Robert's lithographs "One of the finest works in the collection, 'L'Approche du Soir' has already enjoyed the distinction of a place in the Salon of 1889. Its tone is somber but expressive, and its simple story is told with a directness and force strongly suggestive of Millet's handling of peasant figures, while the landscape recalls the twilight tints which Daubigny painted so grandly. It would not be strange if this young artist has caught something of the inspiration of these great masters, for the subject is one after Millet's own heart, and the landscape one that Daubigny might easily have chosen."




Some of Robert's most productive work was in the period 1888 to 1900. After his "permanent" move to Auvers-sur-Oise in 1892 he bought a home and had it remodelled, adding another storey to the building to house his studio. Known as "Villa Corot", located in the hamlet of Les Vallées, this house is fondly remembered by his children who spent their early life there. To quote his oldest son, Alfred:


"Day by day, [the workmen] went on with their work until the thatch was replaced by scarlet tile, new partitions; new stairways were erected with barn transformed into studio and library. It was a most extraordinary maze. The outer walls were splashed in pink stucco with white trimmings and, to complete the picture, a turret was stuck at one of the corners over the gate. In the centre of the main wall Father had an oval frame made of white plaster inside which he painted a toga clad artist seated at an easel with the motto, "Ars et Natura."

The studio, flanked by its turret, is on the top floor. One of its ends fronts on the old Moutier Road. It is a large room, about thirty-six feet wide by twenty-four long. It covers over half of the area of the third floor which is on the same level as the land back of the house, from which it is separated by a deep corridor. This corridor was dug to eliminate dampness due to contact of the rear wall with the earth of the side hill. To permit access to the rear a bridge has been built from the studio to land across this moat-like excavation. On the bridge side, the roof is half glazed giving a magnificent North skylight.

With his turret at one end and his bridge at the other end of his studio Father feels like a lord in his castle. Yet the resemblance stops there for the inside is most un-castle like. A jumble of easels, canvases, casts, draperies, ill-hidden packing boxes, a small table serving as desk for his correspondence or verse writing are more or less grouped in intricate patterns yet not unpleasant to look at. There is no attempt at symmetry but rather towards something more subtle: harmonious asymmetry which, through the eye, inspires the brain to create beautiful things.

This is the place where he works at his compositions based on sketches, and studies made in the field or from models. As long as I am quiet I can move in or out as I please. It never seems to disturb him."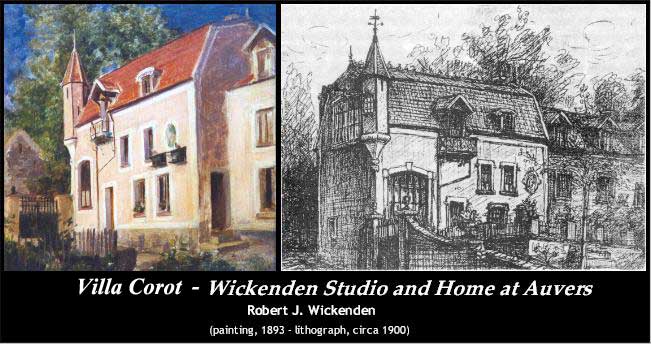 Alfred also recalls accompanying his father on many outings into the surrounding countryside to paint:


"Reaching the place where the study was to be made, he would unfold easel, and stool, place his canvas, open his paintbox. A first calculating glance would be given to the subject, singling it out of the maze of fields, trees and skies, framing it in his mind as it were, before framing it in the canvas. He would start with a general lay-out in charcoal, following it with brush and paint, gradually building up the chosen scene. Birds twittered, breezes waved the grass and the green crops, hours slipped in Nirvana.

Meanwhile, left to my devices I would explore, never far from the protecting shadow of my father and his easel. There were bugs, multicolored, long-whiskered, there was the grass, the dirt even. I generally managed to gather a fine bouquet. At four o'clock or so we would have a bite to eat, a bit of bread and chocolate to tide us till supper. Afterwards, the brushes would go on, more vigorously than even, well into the afterglow. Frequently dusk would be settling before he would say "Well it's time to pack" or some such remark. The process followed on our arrival would be reversed -- everything was put away, brushes, paint, pallette, easel, stool and umbrella. This was always done in a most methodical manner, with the fresh painted canvas resting face up on the grass. The last thing was to give one last searching look at the trampled place where he had sat so as not to miss some dropped brush or paint tube. This over, the wet canvas was picked up and we would tramp home in the gloaming. Mother would be waiting with a good supper to be partaken of after a copious wash up, of which the soiled brushes got their full share. These tools of his art were never neglected as long as he lived."
One can imagine such an outing resulting in the lithograph, L'Approche du Soir" which shows the Croix du Montier, in the Plain of Auvers, located behind his house.

Alfred also recalls that during their stay in Auvers they entertained many visitors, often artist friends of Robert, as well as clients of Robert's works. Regarding Robert's artists friends, Alfred writes:


"Chief among these was Ulpiano Checa. He and Father shared a studio at 235 Faubourg St. Honoré. Checa was a Spaniard, dark, thick set, nearly stout. To me he seemed to have a perpetual smile, so engaging and so tender, that I can still see it plainly under his merry, luminous eyes. He claimed Arab descent from the ancient Moslems who had occupied Spain. This fact explained, he stated, his unusual command of brush and pencil in painting horses.

Checa, the mild tempered, soft-mannered Spaniard, could paint unhesitatingly the wildest scenes of gore and sword. Father on the other hand with a streak of red in his hair could be, to say the least, formidably as resolute as any Englishman can be. Yet he painted soft lowing cattle, soft sunsets and soft ladies in soft tones. Perhaps that was why they got on so well."
Robert's career as an artist and art dealer was a bumpy ride, with some great highs and an equal number of depressing lows. An example of each event occurred within three years of each other, 1893 and 1896.

In the winter of 1893, Robert sailed to New York with a collection of paintings for sale. The catalogue for this event was entitled "Collection of Mr. Robert J. Wickenden -- Paintings and Studies by Masters of 1830 and the Barbizon School." To quote the introduction written by RJW:


"Pictures to a painter are as books to a writer. In them is felt the impress of graphic thought and they become both guides and companions in following after that idea which is the beginning and end of an artist's life.

I have always been strongly attracted toward the masters of the school of 1830 and I believe them to be luminaries as fixed in the sky of art as the masters of the Italian Renaissance or of the Spanish or Flemish Schools.

My taste has followed this belief and for study and recreation I gathered round me the present collection. Obliged to part with them now, I do so with regret, yet trusting that those into whose hands they may fall will enjoy them as much as I have done.

Pictures should be appreciated for what beauty they may inherently possess but a certain interest also attaches to the source from which they come. I have always endeavored to be well assured of their genuine quality first on their own merits and secondly in tracing them as near the painters as possible. In a number of instances they have come direct from the artists' studios, families or intimate friends."
The auction took place February 21-24, 1898 and included 63 oils and 53 watercolors and drawings by such artists as Rousseau, Millet, Corot, Daubigny, Dupré, etc. The top price went to a Troyon (no. 35) "Autumn Landscape" which fetched $3500.00. One Rousseau, only 10 3/4" x 14 3/4", representing a roadway in the Forest of Fontainebleau, fetched $3000.00, no. 63, "An Alpine Torrent" by Gustave Courbet 40" x 60", fetched $3000.00. All in all, Robert grossed $49,630.00. He returned to France in early March, flushed with success.

This first success as an art dealer encouraged Robert to make further purchases of paintings. As his son Alfred points out;


"He had the speculative spirit just as much as any Wall Street operator might, which was more than bolstered by a deep love for good painting which doubled his desire for acquisition. Sundry dealers were not slow to place tempting morsels before him with most enticing letters to urge him.

How gorgeous these works seemed to me when Father hung them after a painstaking process of cleaning. As he studied them he would invariably point out some peculiarity of the painting or of the painter who had done it, giving me the opportunity of absorbing a liking and a recognition of the works of all the principal schools of painters, especially the Barbizon men, his favorites.

At this period many Oriental art products from Asia Minor and from Algeria came on the market. He bought many of these at very reasonable figures and covered vacant spaces of the walls with rich rugs, camel bands, saddle bags, etc., while on the floors, prayer rugs and carpets were spread among antique pieces of furniture.

Since this was the library, book shelves were filled with ancient volumes in leather bindings, picked up on the Seine "Quais." Father spent hours reading them, calling to me to listen to passages that appealed particularly to him -- to which, I am sorry to say I listened with a rather "distrait" ear."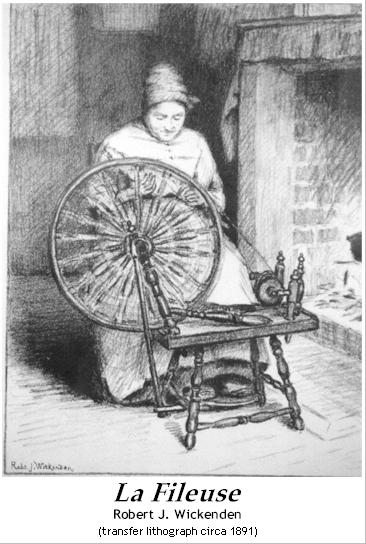 After his successful sale in New York, Robert acted as a agent for several dealers in the U.S. However the U.S. market was deteriorating, sales were slumping. In 1896 he decided to sell off the pieces he had been collecting for the last 3 years. He chose to sell these through a London firm, Robinson & Fisher rather than risk the depressed U.S. market. The sale took place in April, 1896 and it was a disaster. Instead of making money, he lost money, and all the paintings were gone.

Alfred remembers his mother Ada confiding in him - "Alfred, we are ruined..." When asked how much it cost to live she replied "Two hundred francs a month". Robert was at his wits' end. He asked members of the family for loans, but they too were hard up for cash and could only provide a little. It didn't take long for Robert to compose himself. As Alfred explains it, "After the first shock, his youth (he was only thirty-five), his nimble mind, reassumed their ascendancy."

He put several of his pictures up for sale through an art dealer in Paris. This met with some success with an early sale of one of his pictures for 250 francs (net to Robert was 10 louis (200 francs)). In late June, 1896 he obtained 4,000 francs as a mortgage on their house in Auvers. It was at this time he thought of potential sales in various cities in the U.S. as well as casting his eye to a new untried country, Canada. This led to several modest successes in sales and eventually, to his move, in 1900, to Montreal, Québec, Canada.

As an aside, it is to be noted that the art world is a cut-throat business, particularly among some competing artists. His son Alfred remembers, not too fondly, many French artists taking advantage of Robert's connections with the U.S., his generous nature, and his command of the English language:


"… he was quite overwhelmed with applications from other French artists eager to connect with U.S. Dollars. As they were quite unable to comply with, let alone understand the rules and regulations which were all in English, he was obliged to do everything for them, even to assuming responsibility for their pictures. All they did was to drop their works in Father's lap for him to accomplish the rest: applications, history of painters, customs, entries, etc.

It was a mean, thankless job for, not only did many of them fail to show any gratitude, but they prodded him unmercifully if things did not seem to go fast enough. In addition, others set prices, quite exorbitant in many cases, which prevented sales. When pictures were returned they were in a rage. This job must have been quite a chore for I note bills for customs entries, bills of every description, on account of the pictures of various artists. They are all duly receipted but Heaven knows whether Father ever was reimbursed for all these outgoes. He was most particular about paying bills for which he was in any way responsible and I am certain that with his very conscientious habits he would have surrendered the receipted vouchers to artists on collecting from them, which makes me think that he was never reimbursed for those I found. Many for whom he devoted himself kept friendly as long as he was willing to do their donkey work. When this unprofitable pastime ended, Father incurred their displeasure. Thus in trying to benefit them he got kicks and no ha'pence.

There was no return on their part for benefits secured. At the cost of his own patronage he secured thousands of dollars worth of commissions for them but never a cent did he get through them in return. On the contrary, when this source of golden revenue dried up, they did all in their power to check and prevent the awards he so well merited in the many exhibitions where his works appeared, hoping in this way to divert his sources of revenue to themselves. This did not occur to any extent and they were, as a result, induced to feelings meaner than ever."
His move to Canada in 1900 was sparked by the disastrous financial experience with his 1896 London art sale. His brother Tom in Toledo suggested that portrait painting was a route out of Robert's dire financial state. With this in mind, Robert put on an exhibition of his work, at Quebec City, in September, 1896. Some 51 works were on display, 21 oil paintings, 17 watercolours and 16 lithographs. Ten of these works were portraits, designed to show Robert's skill at executing such works. The reviews of his exhibition were extremely positive. He was befriended by several men of power in Québec at the time including Siméon Lesage, James Lemoine and G.M. Fairchild Jr. Some of his works were purchased by the Lieutenant-Governor of Québec, Sir Adolphe Chapleau.

He received several portrait commissions, the most notable of which was the Rev. Abbé H.R. Casgrain in early December, 1886. Casgrain was a keen amateur of art and his opinion carried weight in Québec. Not only did Casgrain like his portrait but he and Robert got on extremely well. This led to a commission to paint the portrait of Simon-Napoléon Parent, the Mayor of Quebec City and Robert was renewed with a new career as a Québec portrait painter. He executed several portraits and in 1898 did another exhibition of his art works in Quebec City.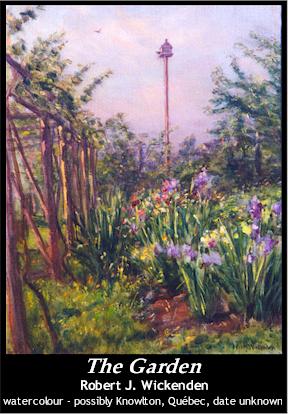 In May, 1900, he moved his family to Montréal. It appears that Montréal was chosen over Quebec City because it was a larger, more cosmopolitan centre, and offered more opportunities for an artist and dealer such as Robert. They settled in at 24 Côte Ste. Catherine. In 1903 they were debating on whether to stay in Canada or move back to Europe and opted, in March, to buy a house in Ste Adèle, about 65 kilometres (40 miles) outside of Montréal. Robert was warned that village life in Canada was not the same as in France. Dawson Watson, a fellow artist commented in a letter to a mutual friend; "Is W. [Wickenden] distilling whiskey blanc and giving a painting with each cask otherwise I don't see how he is going to pull it off in any Canadian parish." While living in Ste. Adèle, Robert maintained a studio on Montréal.

Because of his wide ranging interests and skills, Robert was able to supplement his income with activities such as doing art collection evaluations, art restoration work and even tinting photographs. In 1902 he evaluated part of the collection of the Séminaire de Québec. One of his more prominent art collection evaluation jobs was the cataloguing of the William Van Horne collection in 1926 and 1927. Robert had been a friend of Sir William.

In 1906, Robert made the decision to tackle the New York market again. He chose to move to Bethel, Connecticut partly because it was "picturesque and paintable and not too far from N.Y.". This move didn't settle him down, he continued to travel, executing portrait and landscape commissions in places such as Ottawa, Pennsylvania, Montréal, Detroit and Toledo. His exhibitions were still mostly held in Canada with only a few showings in the U.S. He devoted more of his time to writing, mostly about the Barbizon artists. He contributed expert information about these artists to various art catalogues. He also wrote several articles about artists such as Charles-François Daubigny, Jean-François Millet, Jean-Baptiste Camille Corot, Charles Jacque, and Paul-Adolphe Rajon.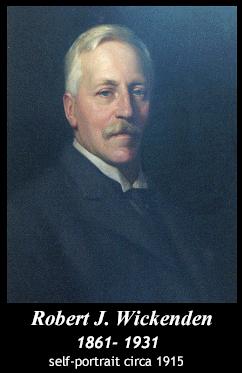 The only break in his long artistic career was a posting to France with the American Red Cross for about 8 months in 1918. During their stay in Connecticut, the family moved three times. There was also some consideration during their time in Connecticut of moving back to Europe, however this didn't come to pass. In 1921, he and Ada moved to Brooklyn, N.Y., living first on Bay 17th Street, then on Willow Street, then in 1928 moving to Garden Street.

Robert John Wickenden died in Brooklyn on November 28, 1931, a little over a year after the death of his wife Ada. Robert and Ada left behind many descendants, now into the fourth generation, including a new Robert John Wickenden, a great-great grandchild of Robert and Ada (through the Henri Robert Wickenden line). No one followed in Robert's steps as an artist, although all have followed in the Wickenden tradition of a love of learning. Robert's male children made their mark as scientists and engineers.

To see the lineage of the Robert J. Wickenden family visit the Wickenden genealogy page.

- Ken Watson, 1998

My connection to the Wickenden line is through my mother, Jocelyn Wickenden, daughter of Jean François Wickenden, who was the son of Robert John Wickenden. In other words, RJW was my great-grandfather.

.
---
Main Bibliographical Sources:

Castle in Bohemia, Memoirs of Robert John Wickenden, Artist, of his wife Ada Louise Ahier and their family to 1900 by their son, Alfred Ahier Wickenden

Grace Wickenden Colby (daughter of Alfred Ahier Wickenden - son of RJW) - personal communication.

Notes on the author from a reprint of Robert J. Wickenden's article on Charles-François Daubigny first published in 1892.

Notes about R.J. Wickenden, from "My Quebec Scrap-Book" by G.M. Fairchild, Jr., circa 1907.

Robert Early Phelan (son of Alice Marie Wickenden - daughter of RJW) - personal communication.

Robert J. Wickenden (1861-1931) and the Late Nineteenth-Century Print Revival, a thesis in the Concordia University Department of Art History, Montréal, Québec by Susan J. Gustavison, July, 1989.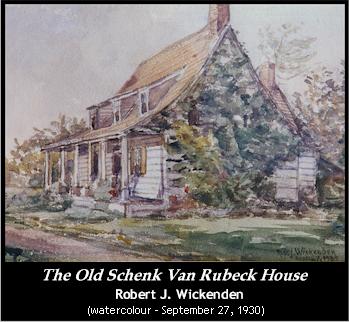 ---
URL: http://www.rideau-info.com/ken/genealogy/wickenden/index.html
© 1998 Ken Watson