---



---




---



---



---

---



The focus of this tour is to have a look in several of the art, antique and craft stores in the northern Rideau region - primarily Merrickville. You will often find a better deal at antique shops located in rural communities than you will at stores in the city. Also, there are many artists and artisans living in the Rideau region, their wares are often for sale at the local craft stores and galleries. One note is that several of the antique stores are closed on Monday, some are also closed on Sunday.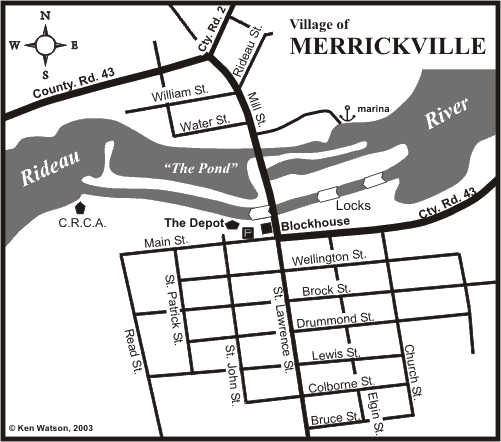 Ottawa via Hwy. 416 south to Cty. Rd. 43, to Merrickville - Leaving Ottawa, take Hwy. 416 south to the Cty. Rd. 43 exit, turning west to Kemptville and Merrickville. Follow Cty. Rd. 43 to Merrickville. In Merrickville look for the historic Blockhouse just west of the main intersection. Park anywhere near the Blockhouse. Merrickville was founded in 1795 by William Merrick, a millwright from Massachusetts, who set up a mill on the Rideau River at the site of the falls. The mill is long gone, but the community of Merrickville continues to thrive. Merrickville prides itself as an artistic community, boasting over thirty local artists and artisans. Merrickville not only offers many excellent shopping opportunities, it does it all within a lovely 19th century ambience. In 1998, Merrickville won the Communities in Bloom competition for being the Prettiest Village in Canada.

Your first stop will be The Depot, located on the waterfront, just up from the Blockhouse. The Depot is the retail outlet for the Friends of the Rideau. In addition to an interesting assortment of goods, you can obtain local information about Merrickville and use their public washroom. When you leave The Depot, take a few moments to have a look at the locks and the Blockhouse.

You may leave your car parked where it is, head to the main intersection and take a walk up St. Lawrence Street where many of Merrickville's shops are located. Visit shops such as Mirick's Landing Country Store, Larkspur Lane (a collection of stores including the Canal Gallery, Village Accents, and Haedae Farms for all organic food), Stone House Gallery, River Bend Alpaca Fibre Shop, Mrs. McGarrigles, Rowland Leather and much more. Have lunch in one of the several fine restaurants or pubs, or pick up some fresh baked good from the Round the Corner Bakeshop (on Wellington St. West) and head back to the lawn by the Blockhouse to enjoy a picnic lunch.

After lunch it's time for a bit of antiquing. Head down Main Street, two blocks west of St. Lawrence Street to Whistle Post Antiques and Shadow Antiques. Also on St. Lawrence Street you will find Artiques Gallery, with antique furniture and local crafts.

We will be leaving town by crossing the bridge over the Rideau River and heading over to Cty. Rd. 2. Just after crossing the bridge, turn right onto Mill Street and stop at the Alloy Foundry/Village Metalsmiths. If you are looking for something absolutely unique, considering having something made to order in solid metal.

Merrickville via Cty. Rd. 2 to Hwy. 416 to Ottawa - Head out on Cty. Rd. 2, enjoying a leisurely drive back to Hwy. 416 and then on to Ottawa.


---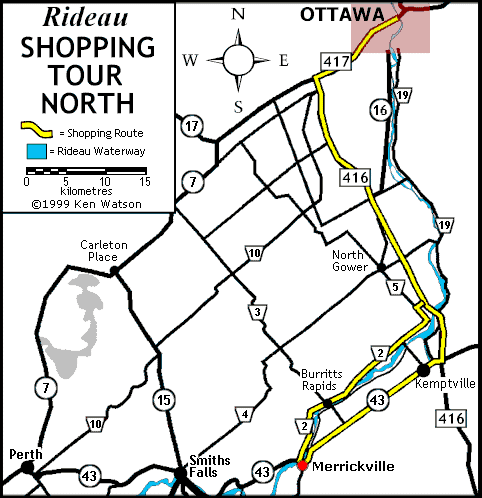 ---
Use the "print" button on your browser to print this page to your printer.



---

Comments: send me email: Ken Watson
URL: www.rideau-info.com/canal/driving/shopping-north.html
© 1999-2010 Ken W. Watson