Solar Cruising On The Historic Rideau Canal
by
Monte Gisborne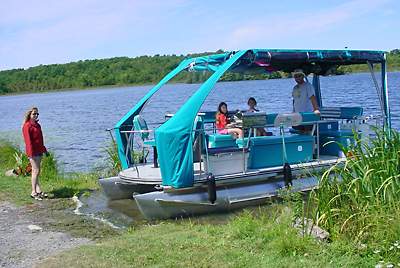 Launch at Kingston, ready to begin the adventure

The early 1800s was a great period of nation building for British North America and Britain was determined to do all things necessary to secure its interest in the country we know now as Canada. She dispatched some of her brightest minds to take on huge projects in this regard and Colonel John By, the architect of the Rideau Canal, was well chosen. During this same period of time and half a world away back in England, there was a wellspring of interest in all things electrical and some great minds were very hard at work unlocking the mysteries of this seemingly godsent force. In 1826, the year that construction began on the Rideau, George Ohm discovered perhaps the most important mathematical relationship in this field: E = I x R, a simple equation revealing the interdependence of volts, amps and electrical resistance. By the time that the canal officially opened in 1832, Michael Faraday, slaving away in merry olde, had studied the effects of magnetism to the point that he had invented the DC electric motor, which remains virtually unchanged today.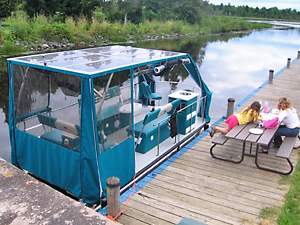 Scenic setting at Kilmarnock Lock with both the boat and family recharging their batteries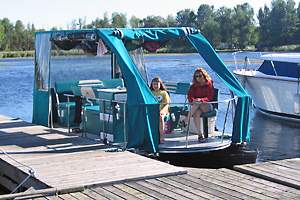 Overnighting at Rideau Ferry Marina

Was there a serendipitous connection between the invention of the motor and the opening of the canal? If Faraday and By had envisioned such a union they didn't make it public, but on the eve of the canal's 175th birthday the benefits to mankind that these two men brought forward would come into clear focus for myself and my family. I thought about this as the latest Loon, my 20 by 8-foot solar-powered electric craft, slipped free of its trailered perch and gracefully descended into Colonel By's engineering marvel, near the now-bustling city of Kingston, the first ever to do so.

If last year's trip along the Trent-Severn waterway in my crude solar-powered boat prototype was a "voyage of discovery", then this year's trip was going to be a pleasure cruise in comparison. Although last year's boat had the same basic DNA - solar panels, batteries, electric motor and double pontoon-style hull et al - the comparisons would end there. The newest Loon had the fit and finish of a polished, manufactured product and was fitted with such luxuries as full weather protection and sleeping accommodation for 4 people; a galley complete with fridge, sink, microwave and barbeque, on-board AC power, a heating system for cold nights and more. This "Rideau cruiser" would more resemble a solar-powered, electrically propelled 20-foot long camper-trailer which was designed for long-distance waterway touring and the Rideau Canal, a full 202 kilometers long, would present the perfect opportunity to test it out. Like the previous trip along the Trent-Severn in 2005, my family boarded this newest Loon and seemed to marvel at the comforts and luxury it provided over its predecessor. To me, it wasn't unlike watching the proverbial ugly duckling blossoming into a beautiful swan and without hesitation we cast lines and headed north to the first of many lock stations we would encounter en route.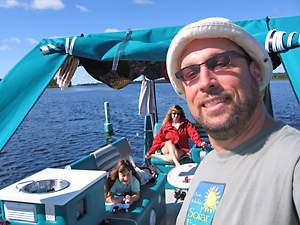 Family traveling at cruising speed towards Smiths Falls

Colonel By would probably have favoured the presence of a mighty naval steamer on his waterway, charging off to supply much-needed support at York or Montreal to defend the country from foreign invaders, but somehow I think that Michael Faraday would have preferred the Loon and would have taken solace in the fact that so many of his and his contemporaries' ideas had indeed stood the test of time. On reflection, both men would likely be pleased by the fact that the waterway was never used for the military purposes it was intended, in fact, relations between America and Britain improved after the canal was finished and the two would go on to serve side by each in many conflicts.

One of the most interesting experiences during our trip was a little situation we encountered on the second day of our journey. We had intended to travel from the base of Jones Falls Locks to our leg's end at the town of Portland, but ran into a "newbie" snag… we didn't know that it would take us 3 ½ hours to travel through the system of 4 locks at Jones Falls and found ourselves well behind schedule. This was compounded by a late start in the morning as well. We ended up falling about 10 kilometers short that day, resting overnight at Newboro Lock Station instead, with Parks Canada offering us an opportunity charge to help top up the batteries. This meant an earlier start the next day. As we were travelling along I felt a slight wind at our back, not much, but enough to warrant zipping down the rear curtain which effectively gave us 40 square feet of sail. This bumped our cruising speed from 5 knots to almost 6, which was more than enough to make up the shortfall and to cruise into our intended destination of Rideau Ferry well ahead of my original estimate and with half of a charge of batteries still in reserve. I didn't feel like I was "cheating" by doing so, in fact, the sun provides the wind so in my way of accounting, el sol gave me a double helping that day! And besides, utilizing the wind to my advantage offsets those times she worked against me. Fair is fair, I say.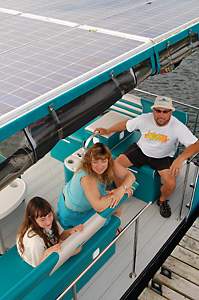 The happy family at Narrows Lock en route to Rideau Ferry on Day 3
(photo courtesy of Westport Review Mirror)

The rustic settings and opportunities to dock and stretch our legs was abundant. The canal wends its way through a collection of little towns, the biggest of which is Smith's Falls, the Canadian home of Hershey's Chocolates. When not passing through a town, the canal, a system of lakes, slow-moving rivers and man-made waterways, cuts a path through the dense wilderness and generously offers up species of animal life. We saw an eagle nested in the wild, numerous heron, beaver, fox and deer to name a few, not unlike the workers would have experienced in the 1800s. Overnighting opportunities at marinas, lock stations and parks were everywhere and we would plug into the readily-available shore power to keep the batteries topped up, waking each day with a fully charged set of batteries. When asked by gas dock attendants whether we preferred regular or premium fuel, I usually responded with "no thanks, we're filling up with a happy blend of sunshine and relaxation today!"

Technically, this trip wasn't a great challenge for the modern production Loon. Equipped as she was, the boat cruised the average 34 kilometer daily legs at about 4 knots (about 8 kph), give or take, all the while drawing about 20 amps from the 8 6-volt deep cycle batteries and 15 amps from the sun. The Maximum Power Point Tracking electronics built into the solar controller helped to maximize the output from the solar array, often reporting over 800 watts from the 720 watt rated system. The propulsion system, utilizing an Etek DC motor, is coupled to a highly-efficient kort nozzle and helped to squeeze every ounce of thrust from the available electrons.

There are 49 locks in total and the Rideau Canal is the oldest continuously-operated canal system in all of North America. In May 2007, the Rideau celebrates her 175th birthday and in recognition of this, the United Nations will declare her a World Heritage Site, guaranteeing Colonel By and Canadians that his magnum opus will be enjoyed and appreciated by many, many generations to follow. The waterway is an integral part of Canada's history and a symbol of what hard work and determination can achieve. Low-wake, non-emitting electric boats will also do their part to reduce contamination and erosion of the waterway, further ensuring its suitability for future use. Faraday and Colonel By would both approve.



*** LABOR OMNIA VINCIT ***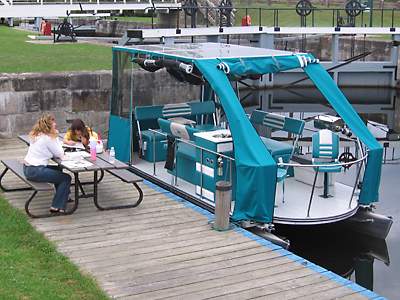 Denise and Deanna enjoying a peaceful moment at Kilmarnock Lock
For more about electric boating see:
The Electric Boat Association (England)