Manotick (N 83)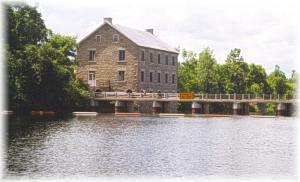 Located on Long Island, the name is derived from the Algonquin word meaning "island in the river". In 1860 Moss Kent Dickinson opened a sawmill and gristmill, attracting many families from Ottawa to this lovely pastoral setting. The gristmill is located in Dickinson Square across from Moss Kent's house and is now operated as a tourist attraction and, along with the village's craft market, entertainment, many lovely estate homes and artists' studios, provides the visitor with delightful walking tours.

Events
Dickinson Day weekend celebration (first June weekend), Strawberry Social in July

Services/Facilities
Over 150 stores and restaurants, historic sites, churches, liquor, beer, banks, Post Office, golf courses and tennis. Home of The Millers' Oven, the internationally famous restaurant run by Seniors and offering the best pie on the Rideau!

Manotick is your last stop for supplies before Ottawa. For information, call the Manotick BIA (613) 692-7657.

Manotick Public Wharf (Draught at dock 5 feet)
Located under the road bridge, tie-up is possible but not ideal. Facilities include ramp, swimming pool, library, bait and tackle shop, medical centre and a small plaza of convenience stores all within walking distance. However, it is recommended that Manotick be accessed from Mahogany Harbour.


DOUG'S TRUCK & AUTOMOTIVE
1142 Chrust St., Box 464
Manotick, ON K4M 1A5
Tel: 613-692-3537

MANOTICK HOME HARDWARE
Manotick Mews - Box 970
Manotick, ON K4M 1A8
Tel: 613-692-3591


MANOTICK INDEPENDENT GROCER
Manotick Mews - 1160 John St.
Manotick, ON K4M 1A8
Tel: 613-692-2828


---

Navigation notes
Note the narrow channel between marker buoy's N85 and N86, 3/4 mile (1 km) downstream of the entrance to Mahogany Harbour (see picture below)
Watch out for the weir abutments (marked as "4 piers" on the chart) located between buoys N75/76 and N60/70.
The channel between public wharf and N70 is deep and pretty through old bridge abutments and featuring older classic estate homes and landscaping. The bay centred around markers N69 through 65 provides excellent overnight anchorage and swimming.
---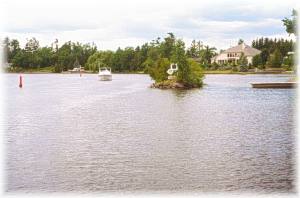 Narrow Channel at N85 & N86 (looking NW)