Osgoode (Accessible by road 1 1/4 miles ~ 2 km ~ from Hurst Marina)
The village boasts many stores and restaurants, gas stations, beer, liquor and post office as well as medical and emergency services. Several businesses will provide a shuttle service on request.

THE RED DOT CAFE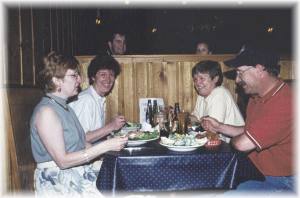 Offering fresh country dining in the heart of the Village of Osgoode, the Red Dot Cafe has a rustic family-oriented restaurant whose menu includes a fine selection of wines and spirits, exquisite deserts and delicious cappuccino, amazing Sunday brunches and superb catering for any occasion. Their bar is the hit of local sports teams and provides late-night munchies to tempt any palate. Shuttle service available. Located 2 km from the River and 5 km from Hurst Marina. Open 11 am to 10 pm Monday to Saturday; 10 am to 9 pm on Sunday. Tel: 613-826-0552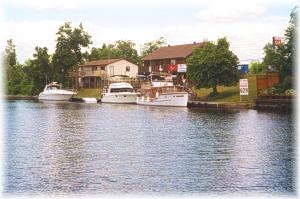 KELLY'S LANDING
8 miles (5 km) downstream from Hurst
Welcome to Kelly's Landing, home of O'Brien Watertoys and Bare Wetsuits. Come visit our dockside ice cream parlor (30 flavours) and waterfront patio (licensed restaurant serves traditional fare and seafood specialties). Our convenience store is open from 6 am to 9 pm, 7 days a week. We have road and marine gas and diesel fuel, propane for BBQs, film, batteries, video rentals, lottery terminal and other basic necessities of life.

MANOTICK MARINA
(Draught at dock 5 feet)


---

Navigation notes
Good overnight anchorage in 12 ft (4 m) can be found in the bay upstream of N106.


Be careful of the "Cruiser Cracker" (rock awash) in the vicinity of N106 and clearly marked on the chart. It is critical that you remain within the tightly marked channel between markers N106 through N103 as you approach Manotick Marina. The area is locally known as Rideau Narrows.


Anchorage can be found in the bay just upstream of N97 in deep water.
---