Kemptville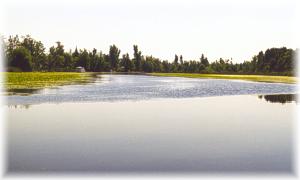 (Off the main channel, opposite side and just downstream from Rideau River Provincial Park) Known as Clothiers Mill at the time of its founding back in 1816, and developed as a thriving lumber town, the name was changed in honour of Sir James Kemp, then the Governor General of Upper Canada. With the completion of the Rideau, Kemptville drew weekly visits from steamers en route from Ottawa to Montreal. Its branch of the Rideau, known to the native peoples as the Oswegachie and commonly today as the South Branch or Kemptville Creek, is still accessible to small craft all the way into the Kemptville town dock. There is a public boat ramp at Currie Park on the west side, between the Bridge Street bridge and town. Larger craft unable to clear the 11 ft (3.5 m) bridges may dock by arrangement at SWL Consultants (258-9953) one third of a mile (1/2 km) north of the Highway 43 bridge, or at Pirate Cove Marina 1 1/4 miles (2 km) downstream on the main channel at N153.

Services/Facilities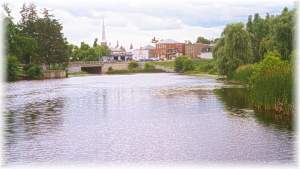 The internationally renowned College of Agriculture (now University of Guelph) has tours available by calling (613)258-2411, Ext 232. The Ferguson Forest Station, bordering the entire west shore from the main channel to the Hwy 43 bridge has 5 miles (8 km) of hiking trails taking you through pine forests, marshland and beech stands and offers picnic facilities and washrooms. In town (population 2400) there is a variety of stores and restaurants and Kemptville Hospital offers medical and emergency services. On Highway 43 close by the bridge which crosses the South Branch, boaters can find food, fuel, hardware and emergency supplies.


---

Navigation Note
According to the charts, Kemptville Creek is navigable by shallow draught boats for about 3 miles (5 km) to the town. Limiting depths are 3 feet (1 m) at datum, but local boaters report depths of from 7-15 feet (2-5 m).


The deep channel is very evident by the absence of surface weeds.


It is critical that boaters enter the creek at right angles to the main channel at N160-159. Do not cut the corner! A rock generally awash or submerged off the point on your starboard side should be avoided.
---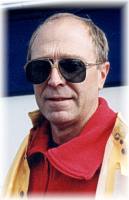 S.W.L. CONSULTANTS (Kemptville Creek)
In 1994 Stephen W. Leake founded SWL CONSULTANTS, an independent marine design consultancy offering the full range of classic naval architecture, yacht design and vessel surveying services. Stephen brings over thirty years experience working in both the commercial and recreational marine industries. Visit our location on the Kemptville Creek for a consultation or just for the trip. Phone (613) 258-9953 Fax (613) 258-9947. Write to our e.mail address swlcons@earthlink.net




You are now returning to the main channel of the Rideau.


Note that opposite the mouth of Kemptville Creek is an excellent beach in Rideau River Provincial Park for swimming and sunning.