Beckett's Landing
Formerly a settlement on the north shore, many of the local residents carry the name and are direct descendants of the Beckett family. A renowned fishing spot is located at the bridge abutments on the south shore just upstream from buoy N172.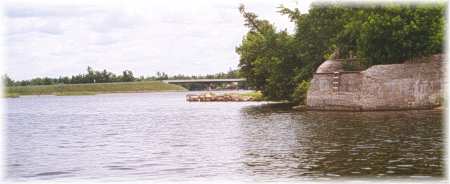 Fisherman's Point
---

Navigation Notes
The 8 miles (12 km) of the main channel from Beckett's Landing to Kars is mostly wide and open.
Care should be taken to avoid the avid fishermen you may find enjoying their sport just upstream from N172.
CAUTION: "Fisherman's Point" creates a blind spot in the channel. Round it with caution!
---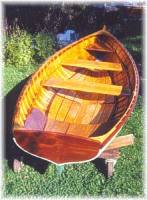 LUDLOW'S BOAT WORKS (buoy N 172)
(Draught at dock 5 feet, ramp, crane, dockage, power, water, motor/hull repairs, phone, washrooms) We are builders of high quality, custom wooden boats and yachts, and purveyors of kiln-dried specialty woods. We supply boat builders, cabinet makers, house builders and hobbyists, and have more than 20 species of wood in stock. Home to the Sailing Yacht Canada Restoration Project, we are located at Beckett's Landing on your nautical chart. 2924 Donnelly Dr., R.R. # 4, Kemptville, Ontario K0G 1J0. Phone (613) 258-4270. Fax (613) 258-6218.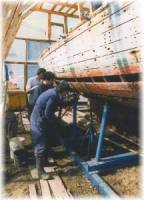 SAILING YACHT 'CANADA' (buoy N 172)
Visit the restoration site of the oldest surviving wooden vessel in the Canadian registry! The Canada Restoration is being performed by dedicated volunteers whose love of history is matched only by their skill and fine craftsmanship. Saturdays 9:30 - 4:30. Other times by appointment. Call (613) 258-6217. For more details, drop by our website www.sycrp.ca

AUTHENTIC YACHT BROKERAGE (At Ludlow Boat Works)
By appointment only at this location or dockside at Long Island Marine downstream at buoy N 116. Buy or sell your boat the professional way, with A.Y. Brokerage. www.authenticyachts.com. Phone (613) 269-3232. Fax (613) 269-3773.



Rideau River Provincial Park (buoys N 164-162)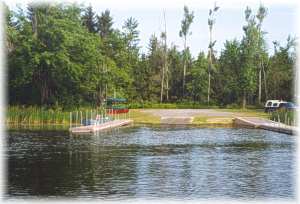 Consisting mostly of reforested farmland, with a pleasing mixture of deciduous and coniferous trees, Rideau River Provincial Park is located 3 miles (5 km) north of Kemptville on County Road 44 with a wharf a third of a mile (.6 km) northeast of Beckett's Landing. The park provides hiking trails and playgrounds, 4 beaches, boat access, docks and a launch ramp. Over 150 campsites have overnight accommodations, picnic facilities, washrooms and showers. There is public golf and horseback riding nearby. For information call (613) 258-2740.


---

Navigation notes
Water depths at wharf uncertain ~ boaters proceed with caution. Enter only at marker N162.
---