Burritt's Rapids Lock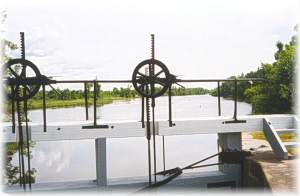 In 1793, a United Empire Loyalist family (the Burritts) made their home along this stretch of the Rideau, building sawmill, bridge and school, a store, tavern and several homes opposite the rapids. Bypassed by the railway shortly after the turn of the century, the thriving village settled down to become a quiet hamlet. Colonel By created an island to house the lock station when building the Canal back in 1830, and today, a trail on this site, the Tip to Tip Trail, provides a delightful 2-hour stroll giving visitors a chance to stretch their legs as they pass through woodlands, to observe marshes abounding with frogs, beaver and muskrat, and to take in historic homes in the village. Self-guide brochures are available at the Lock station.

Events
The last weekend in July is the usual date of the Around-the-Island Canoe Race and community picnic.

Services/Facilities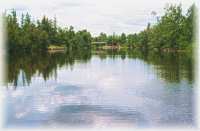 There is excellent tie-up space at the floating docks in the back channel (Burritt's Inlet). Further up Burritt's Inlet is good anchorage and swimming. A restaurant with laundry facilities is located across the road and a small convenience store in the village (a short walk over the swing bridge and onto the main street) provides the usual last minute food and gift items.


---

Navigation notes
About 3 miles (5 km) downstream at N210-209 (not 210/2) boaters can choose to take the main channel or take a short detour around "The Catchall", a quiet, pretty spot with depths greater than in the main channel and offering good, sheltered anchorages.


Libby Island has a public park at the east end which is accessed from River Road. Anchorage is possible around the southern tip of the Island in 6 feet (2m) of water.


The tranquil 8 mile (12 km) stretch of river between Burritt's Rapids and the bridge just east of Beckett's Landing is narrow and winds in a NE'ly direction. The recommended track is well marked and passes by many historic farmsteads, Loyalist graveyards and today's working farms.
---