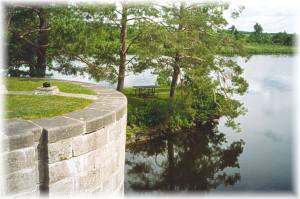 The 124 miles (200 km) of the Rideau Canal System between Ottawa and Kingston is truly a national treasure! Completed in 1832, it is the oldest continuously operating canal in North America. Originally designed for military purposes, the Rideau Canal is now an internationally recognized historic site which offers exceptional waterfront recreational opportunities for the whole family!

Nowhere is this more evident than along the tranquil 25 mile (40 km) stretch of The Long Reach located between the villages of Burritt's Rapids and Manotick (buoys N 230 to N 65). The Long Reach was so named because it is the longest lock-free stretch of the entire Rideau system. This tranquil waterway provides boaters, swimmers, fisher folk, campers and hikers with a unique vacation getaway!



For the camera buff, The Long Reach has something for everyone: Pine forests ... unspoiled wetlands ... working farms ... beautiful estate homes, complete with luxury landscapes. Watch for deer grazing on shore or swimming across to a favourite leafy supper ... blue heron and ducks can be seen among the reeds ... and, thanks to nesting platforms, osprey are returning in ever increasing numbers.

For those with a shaky grasp of their compass, while Long Island Locks at Manotick lies at the North end of the Reach, we'll begin our guided tour from the South at Burritt's Rapids, located upstream from Manotick.