The Origin of the


Surname


The following is a compilation of thoughts about the origin of the Wickenden surname by Alfred A. Wickenden, Cyril D. Wickenden, Robert J. Wickenden and Thomas H. Wickenden. Please note that this is a collection of various musings - it should not be used for academic purposes. Additional thoughts and ideas are more than welcome.

Although you will find Wickendens living all over the world, these families all originate from Wickendens who lived in the County of Kent in England. The name Wickenden is Anglo-Saxon in origin. One theory on the meaning of the name has to do with the fact that the word "Wicken" means a rowan-tree (Mountain Ash) and the suffix "den" means a place near a wood or valley where goats or swine were herded. Alternatively, the word "Wick" means a patch of communal grazing land. Putting it all together results in the name meaning a grazing (herding) area in/near a rowan copse (small Mountain Ash woods/forest).

Cyril D. Wickenden notes that Wick in Old English was used primarily to denote a dwelling place, abode, then village hamlet, town, and was later used to indicate a farm as in Cowick (dairy farm), Gatwick (goat-farm), Oxwick, Shapwick (sheep farm), Butterwick, and Chiswick (cheese farm). He further surmises that the surname may derive from Wix (Essex) or any of the many places named Wick, Wyke, or Week (a south-western, particularly Devon form) or it may denote a dweller near, or a worker at a dairy farm.

Alfred A. Wickenden believed that the first Wickenden ancestors moved into Kent in about 450 - 500 A.D. with the first wave of Anglo?Saxon expedition of Hengist and Horsa. A similar conclusion was reached by Thomas H. Wickenden, who believes that the Wickenden ancestors were a clan of Angles, variously spelled "Hwicke", who came over with other Angles and Saxons in waves. Thomas indicates that ours may have come over in the first wave shortly after Hengst and Horst were hired as mercenaries by the British.

Thomas H. Wickenden in his document "Wickendens of Cowden" notes that the name "Wickenden" is of locative origin. It derives from the name of one of the 115 or so original dens in the Andersweald or Forest of Anders that were established around the 7th century. Wickenden was first established as a shelter for herdsmen who brought their animals down from the foreshore of the Thames to forage for acorns. The den took its name from the people who settled it. After Wickenden was established as a permanent settlement, those living there took their surname from the name of the den.

The first Wickenden was located near the village of Cowden. In medieval times, it was one of the dens or tenements of the Manor of Lewisham in Cowden. Cyril D. Wickenden notes that some surnames have not moved far from their original habitat. Within a restricted area in and around Tonbridge and Tunbridge Wells, and on and beyond the Sussex boundary and at Edenbridge (Kent) and East Grinstead (now West Sussex, originally in East Sussex) we have the surname Wickenden in its present form recorded from 1200 and deriving from a lost place called Wigendene in Cowden (Kent), last recorded with that name in 1542. By 1663, Wigendene had become known as Polefields. Thomas H. Wickenden believes that the most probable site for the original Wickenden homestead is "Willsfields", once called Wellsfield, just down the drive and across Spode Lane from Polefields.

Cyril cites the first recorded Wickenden as being in a charter of 1044 as Wingendene and in one of 1084 as Wigendene. This, as noted above, was from an area near present day Cowden (more specifically Polefields). By the middle of the 16th century, the Wickendens of Cowden had become so numerous that they added attributes to their names as follows: :

Wickenden de Ludwells (a farm still existing)
Thomas Wickenden de Cowden Streate (1558) (Streate means village)
Thomas Wickenden de Beechingwoode (1571) (still existing)
Thomas Wickenden de la Hole (1589) (destroyed by fire in the 19th century ?)
SIt is said that some of the early Wickendens occupied the Isle of Thanet at the mouth of the Thames. There is a legend in the family that Alfred A. Wickenden believes was checked by Robert J. Wickenden and found to be true that the Wickendens owned considerable lands on the Isle of Thanet at one time. However, because they opposed the many marriages of Henry VIII and his establishment of the Church of England in place of the Roman Catholic Church, he took their lands away from them.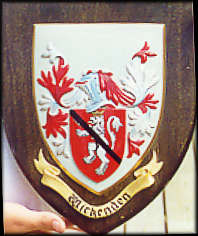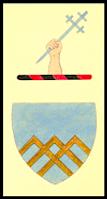 The Wickendens achieved some standing. Individual Wickendens were awarded at least two coats of arms. There is the one shown at the beginning of this document – Escutcheon: Field Azure; Ordinaries: Three chevrons interlaced, Or (gold); Crest: A dexter hand proper holding a cross crosslet fitched. Azure. The second coat of arms is shown on this page. Nigel Wickenden notes that the two coats of arms are listed in Burke's General Armory but that neither is listed in the official records of the College of Arms.

Of course not all Wickendens were pillars of their communities. According to family history, after Henry VIII took away lands and fishing rights from the Wickendens of Thanet, some of the family, in defiance of being so fleeced, became pirates. Several were caught and hanged at Little Hampton.

The first Wickenden to travel to the Americas may have been William Wickenden from Oxfordshire. William, born about 1614 in Oxfordshire, England, came to America from there in 1634. He succeeded Roger Williams as pastor of the First Baptist Church in Providence, R. I. the oldest Baptist Church in America. Wickenden Street in Providence was named after him. William is most famous for being one of the co-signers of the first document in the Americas enshrining religious tolerence (enshrining the separation of church and state) into the constitution (of Rhode Island). William died on February 23, 1671 in Providence, R.I.

My own branch of the family comes from Wickendens living in Rochester, England. The earliest known Wickenden of this line is James Wickenden who likely lived near Rochester in the early 1700s. He married Susanna Cullmer in 1756 in Strood (outskirts of Rochester). His son James, born in 1760, married Elizabeth Gardener in 1789 in Rochester. His son Samuel (b. 1798) married Eliza Wellbeloved, in Halling, Kent (close to Rochester) on April 17, 1826. Their eldest son, Thomas (b. December 29, 1826 in Halling), married Charlotte Quaife in Bethel Chapel, Rochester on October 31, 1849. In the Thomas Rogers Wickenden Family Memoirs it is noted by both Homer and Lottie Wickenden that Thomas (b.1826) was a freeman of the City of Rochester, which gave him certain rights, including voting, access to the water (Thomas was a sea Captain), and the right to free schooling for his children (at the Sir Joseph Williamson's school in Rochester). The fact that Thomas was a freeman of Rochester points to the fact that Wickendens must have had prominent standing in Rochester at one time.

The migration of our Wickendens to the Rochester area from their original beginnings in Cowden is currently unknown. Hopefully future genealogical research will more clearly reveal the family history.


---
Compiled by Ken Watson - send comments to: kwatson@kos.net


---


This page was last updated on: July 28, 2007
URL: www.rideau-info.com/ken/genealogy/wickenden/surname.html
© 1999-2007 Ken Watson